Hi, welcome to the Medical Qigong Teacher Training registration page.
I'm opening a new group for the live online program, with monthly sessions running from September 3rd, 2022 - June 4th, 2023. This is the first part of the 3-year program. (2022: Sept 3-4 / Oct 1-2 / Nov 5-6 / Dec 3-4 / 2023: Jan 7-8 / Feb 4-5 / Mar 4-5 / Apr 1-2 / May 6-7 / June 3-4) Classes start at 8am pacific, 11am Eastern, 4pm UK, 5pm Central Europe and are 4h long each day.
Most acupuncture programs in the west only have a very limited amount of time dedicated to Qigong and the teachers of those classes are rarely specialists in the field. It often feels more like a gym class in high school when it should have the same quality level as a physiotherapy university program.
Since 1957, the Shanghai Qigong Research Institute, a branch of Shanghai University of TCM, one of the first Medical Qigong centers in China, has been studying the therapeutic effects of Qigong. In 1979, Professor Lin Housheng, former director of the Institute, created the Taiji Qigong Shibashi system at the request of the Health Ministry to help the Chinese population improve and maintain their health with Qigong. The Shibashi system was taught in most Chinese Medicine Universities throughout China and South East Asia. The system was used in the hospitals and clinics affiliated with Shanghai University, providing data on its efficiency on a large scale. A particular study organized by the Shanghai Hypertension association conducted over a 20 years period with 10 000 patients used specific movements of the Taiji Qigong Shibashi system with great results.
The simplicity of Taiji Qigong Shibashi makes it user-friendly for most patients. The movements are easy to adapt to any conditions. Professor Lin explains: "If the patient is bedridden, make them do an exercise lying down. Once they can sit, make them do seated exercises. Once they can stand, make them do a simple Zhan Zhuang (standing posture). Once they can move, make them do moving Qigong. Once they can walk, make them do Walking Qigong." This represents well the adaptability of this Medical Qigong system to the reality of the clinic.
I have been using this Medical Qigong system clinically since 2012 in my private practice in Montreal, and now in a cutting edge Stem-cell clinic in Los Cabos, Mexico working alongside MDs, surgeons, biochemists, etc… Our patients come from all over the world regained their health from chronic disease, often lasting decades before finding us. Medical Qigong and herbal medicine is a key component of their treatment plan and is seen as essential in their recovery. One of the exercises you will learn in this program has been used repeatedly to help patients return to a normal white blood cell count within a few weeks when nothing had helped them for decades.
Until 2020, I had been teaching private students how to use this system. My students all gained immense benefits from their practice. And since many of them are acupuncturists, therapists, and teachers, their patients and students also gained benefits thanks to them. This is the most important part. If it was just me who could do it, it would not have much value. But since it is teachable and others can gain the same results, it is priceless!
For the first time, I will run a group class exclusively for acupuncturists. Relying heavily on TCM theory, I will help you understand the ins and outs of Medical Qigong. What are the key elements that make it efficient and how to reverse engineer it so you can pick and choose the best-suited part for the individual need of your patients in a fun and user-friendly way for them so they want to do it! Because even if you had the perfect exercise to heal them in a week of practice, it would be useless if they don't do it. Just like in herbology, patient compliance is key.
Since we all have a nerdy side when it comes to the Chinese healing arts, here is an overview of what we will cover during this 3-year program.
The lineage is that of Professor Lin Housheng who created the Taiji Qigong Shibashi system. Prof Lin credit the Shaolin NeiJin YiZhiChan system for developing his Qi to be able to do Qi emission. We will study both of these based on Professor Lin's teaching. The first year will focus on Taiji Qigong Shibashi Set 1 and the foundation posture of the Shaolin NeiJin as well as the ZhenQi Yun Xing (Qigong meditation).
Using the movements of set 1 as our main learning tool, we will discover the different layers hidden in each exercise and how to apply them clinically:
-Wai Gong / Jing Gong (physical movement / body structure / choreography)
This layer is the simplest and fastest to learn. It will give good results for most patients and will be the foundation onto which all other layers will be developed.
-Nei Gong (internal movement / connecting the body via the breath)
Once we are familiar enough with the external qualities of the movements, we will start to use the breath in all its aspect to improve our connection between the external and internal movements. It is the layer that teaches us to move the inside first to influence the surface.
-Qi Gong (movements of Qi / micro and macrocosmic orbits)
Discovering the feelings of Qi being moved by the form until the body is filled enough that the Qi moves the body. Strengthening the WeiQi to develop our connection with the Environment, Heaven, and Earth.
-Shen Gong (meditative state / entering tranquility)
Using images at first to focus the mind. Once the bond is calm, entering the state of tranquility to observe all aspects of our body and mind during our practice and in life.
-Zhan Zhuang (posture training to develop Qi)
The Shaolin NeiJin system of posture was distilled by Professor Lin into the 3 most important postures to build Qi. The original system had multiple postures to help open the channels. Since we are using Taiji Qigong Shibashi to do this, we can focus on the essence of Qi building from this system. Posture builds Qi, movement removes stagnations. Using both, we can achieve harmony faster.
-Wai Qi LiaoFa (外氣療法) / Fa Gong (發功) / Bu Qi (布氣) (Qi emission methodology)
From building Qi and opening the channels so more can flow, the skills of emitting Qi will develop. This skill can be used in many ways: to help a patient or student feel the effect of a movement, to increase the effect of needling techniques, TuiNa, or non-contact healing, to improve your diagnostic skills, etc…
By the end of the program, you will be able to put all those layers together in everything that you do, be it your personal Qigong practice, in your clinic, and in your personal life. They will enhance your life experience in every way. I mean, I'm able to live on the beach in Cabo because of this practice, where would you want to live?
I'm looking forward to practicing with you.
Course Curriculum
Zoom Link and Recordings
Available in days
days after you enroll
Frequently Asked Questions
When does the course start and finish?
The first live seminar is September 3-4 2022 and the last is June 3-4 2023. This is the program of the first year for the Taiji Qigong Shibashi set 1 teaching certificate.
How long do I have access to the course?
How does lifetime access sound? The live classes are recorded, and you will have access to the recording. This way you can review the material between seminars, and take notes at your own speed.
Do I have to know anything about Qigong to start?
Any previous Qigong or Taiji experience you have will be helpful, but it is not necessary. The program was designed to support you to reach the minimum standard to teach. You will learn skills that will support you for many years of practice and growth.
Do I have to become a teacher?
You must pass a written and video exam to receive the Teacher Certificate. The exams for the certification are optional. Many students are taking this in-depth training for personal development without the goal to teach. You can always choose to do your exams later if you change your mind. There is no time limit.
How often are the seminars? How long are they?
The seminars are held once a month on the first weekend of the month. 4h on Saturday and 4h on Sunday starting at 8am Pacific / 11am Eastern / 4pm UK / 5pm Central Europe
Where is the course held?
The live seminars will be online using Zoom. The recording of each class will be posted here with exclusive access for the student of the group.
How much study/practice time will it take outside of class?
A minimum of 20-30 minutes a day of practice is expected of the student. In the word Qigong 氣功, Gong 功 means developing a skill over a period of time. This can only happen with daily practice. It is suggested to take the time to listen to the class recording at least once during the weeks between classes to take notes and study the material covered. This should take about 2h per week.
What if I can't attend a live class?
No problem. It is preferable to attend as much of the live class as possible so you can ask your questions and get feedback during the practice sessions. But since you will have lifetime access to the recordings, you can study the material on your own and ask your questions during the next session or contact me via email between classes.
What are the dates of the seminars?
2022: Sept 3-4 / Oct 1-2 / Nov 5-6 / Dec 3-4 / 2023: Jan 7-8 / Feb 4-5 / Mar 4-5 / Apr 1-2 / May 6-7 / June 3-4
Send me an email if you have any questions about the class or if you would like us to meet and chat before you make your decision. It will be a pleasure to meet you. Contact me here
Your Instructor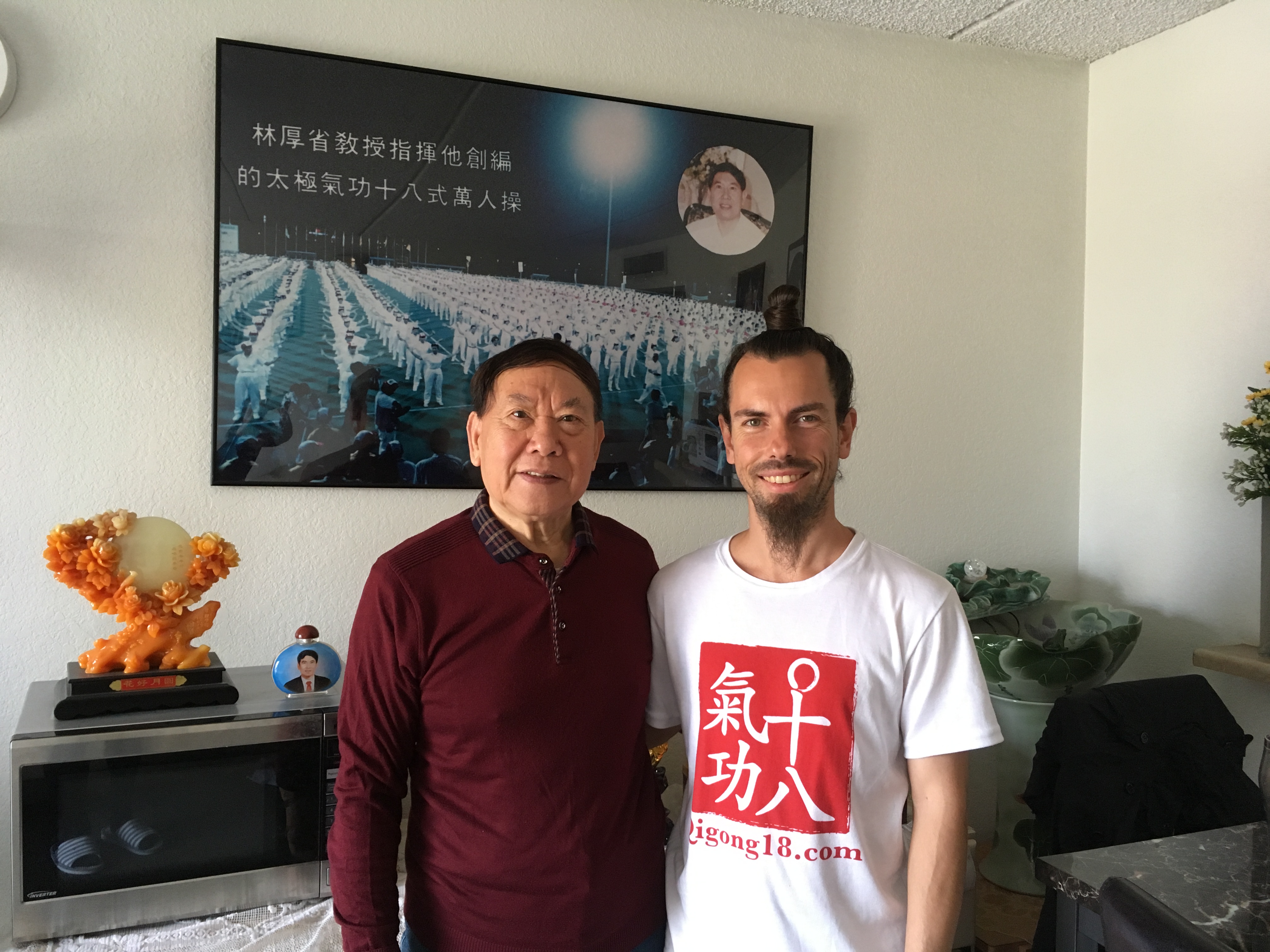 I discovered Qigong and Chinese Medicine in 1997 at the National Institute of Chinese Medicine in Montreal (Canada) under the teaching of François Caron. After the 3-year training program in Chinese Medicine, I graduated in Qigong, Chinese Massage Therapy and Naturopathy and did 1 year as François assistant.
In 2009, I began Medical Qigong training with Dr. Bernard Shannon from the International Institute of Medical Qigong, Oversea College of Medical Qigong, Henan University of Chinese Medicine in Palm Desert, California. I graduated with a Master of Medical Qigong degree in September 2011.
At that point, I had the immense privilege to study with one of the greatest Qigong Master alive today: Professor Lin Housheng.
Prof. Lin is the creator of Taiji Qigong Shibashi (18 movements/form), one of the most popular system of Qigong in the world. Prof. Lin gained fame in China and South-East Asia in the 80's. He participated in scientific research demonstrating the materiality of Qi in the laboratory of the famous nuclear scientist, Gu Hansen. He continued his research and performed over 40 Qigong anesthesia in the Shanghai No. 8 People's Hospital when he was the Director of the Shanghai Qigong Institute of the Shanghai Traditional Chinese Medicine University.
In September 2011, I began my private training with Prof. Lin at his residence in Los Angeles. In February 2012, Prof. Lin mandated Francois Caron and myself to be his official representatives for Canada and France, with the mission to rectify the transformations that occurred in the spreading of Taiji Qigong Shibashi in the West. Prof. Lin also authorized us to teach the Shaolin Qigong techniques he used to develop Qi projection for healing and anesthesias.
In September 2012, Francois and I launched, in Canada, the first Taiji Qigong Shibashi Teacher Training Program authorized by Prof. Lin.
In October 2013, as Chairperson of the Qigong Skills Demonstration during the 12th Shanghai International Symposium on Qigong Science (China), Prof. Lin invited Francois and myself to demonstrate with him the Taiji Qigong Shibashi Jing Hua Ban form (Elite edition/set 8) during the symposium. (Click here to see the video)
After receiving many requests from international students, I started offering high quality live private training through video chat (Skype, FaceTime, etc...). The fantastic tool that is Taiji Qigong Shibashi now becomes accessible to everyone who wishes to learn, without the tiredness and expenses related to traveling!